5 benefits of Smart SaaS over Out-of-the-Box Softwares & the experience of of Genesis Logistics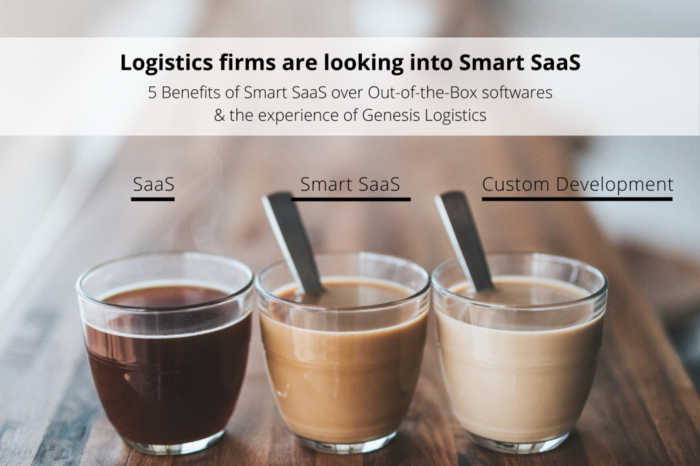 What is Smart SaaS and What Does it Add to Your Business?
Software as a Service is one of the fastest-growing technology strategies. Businesses are now using twice the number of SaaS applications compared to 2015 and Technavio predicts that the global SaaS market will be worth $60.36 billion by 2023.
This rapid growth should be no surprise. The SaaS model — in particular, Smart SaaS — has many advantages over on-premise software delivery that can be adapted to any industry.
What is SaaS?
Cloud computing has quickly moved from trend to standard in business. As opposed to software or other resources requiring local capital expenditure, the cloud allows you to host these in an online space, making them available from any authorized device. SaaS applications are built in the cloud, giving businesses the same convenience for internal and client-facing software. SaaS can also be used to make software (applications) available to customers through 3rd-party service providers anywhere with an internet connection.
Currently, SaaS applications are most popular for human resource management (HRM), customer relationship management (CRM), collaboration software (e.g., email), and procurement solutions. Of course, there are a host of software needs outside of these niches that are not met by standard SaaS solutions. And even within these categories, organizations can have specific needs that a standard solution is not equipped to meet. This is where Smart SaaS is valuable.
Smart SaaS vs SaaS
SaaS delivers cloud-hosted applications that can be used seamlessly across devices and locations. Standard SaaS is what's known as an out-of-the-box solution. As with any kind of ready-made product or solution, it requires little or no fine-tuning and can be a great choice for organizations whose needs run parallel to the general industry needs for which the solution was developed.
However, that convenience comes with restrictions. Out-of-the box solutions are designed to meet a least common denominator of functionality for a particular solution. If it's an HR platform, developers look at the standard needs for that niche and churn out a platform that hits the most common ones. Typically, standard SaaS covers 80% of an organization's needs. What happens to the other 20%? That's when the box starts to feel too small. Instead of the software enabling the business' full processes, the business must alter its own processes to fit the software. Smart SaaS solves this business challenge.
With Smart SaaS, it's possible to build a solution precisely to your specifications. If standard SaaS is a suit bought off the rack, Smart SaaS is one tailored to your measurements. And unlike tailored suits, Smart SaaS platforms can be expanded nearly without limit to accommodate business growth and evolving requirements. As your organization expands, you may find that it requires specific capabilities that aren't included in a ready-made solution. There's also the issue of competitiveness. The best solutions capitalize on what's unique about a business and use that to drive the business's success. Smart SaaS enables and supports a business's uniqueness or "secret sauce" — off the shelf does not.
5 Benefits of Smart SaaS over Out-of-the-Box
Scale infinitely. Standard solutions are built to accommodate a predetermined maximum number of users. If your business sees growth beyond that, you start to lose functionalities — and customer loss follows quickly behind. Smart SaaS is able to accommodate growth much better because your solution can be expanded at any point
Reduce risk. What happens when your SaaS provider drops a feature? What happens when they change functionality? What happens when they decide to drop the product? With standard SaaS, the decisions governing your solution are fully out of your control. If your SaaS provider initiates a change that negatively impacts your business, the only option is to accept or switch platforms.
Ownership of the final product. With standard SaaS, you're renting the platform — you're locked into a certain price for a specific period andif you decide to switch to another provider, all that value you invested in the previous solution is lost.
Smart SaaS delivers significant enterprise value by allowing you to retain all the rights to your unique platform and its features. If your organization has specific capabilities developed for the platform, those features can not be sold to another organization. And if you decide to switch hosts or providers, you can take the platform with you.
Flexibility. The solution that worked for you in your first year of business likely won't meet all of your needs down the road. As you understand your users better, you can continue developing and changing your platform to offer them the best possible experience and stay competitive.
Gain a competitive edge. Smart SaaS helps organizations in heavily saturated organizations like communications or CRM set themselves apart. Instead of being locked into a standard set of features or processes, your business is enabled to develop specific features for your platform that aren't offered by the competition.
Third Party Logistics Case Study
Context
Genesis is an enterprise logistics company operating across the United States. The company specializes in logistics management, warehousing fulfillment, and distribution management. Genesis asked Realware to help modernize its processes in order to keep its standing as a market leader.
Business Challenges
Genesis, a company that had long dominated the logistics industry, was struggling to adapt to digitalization in business processes. Its antiquated manual, paper-based processes were unable to keep up with regulation changes in segments like pharmaceuticals, one of Genesis' biggest segments. The result was enormous customer drop-off that threatened the survival of the company.
Realware's Approach
Realware first conducted an audit of Genesis' processes and identified 3 groups that a solution would have to address:
The company
The customers
The sales reps
Based on insights gained, Realware implemented:
Digital platform that automates all document management
Mobile app to let customers view and manage their orders
Smart SaaS solution through which Realware provides and manages all security, systems and software. Realware executes all support inquiries, software updates, and new feature development decided in strategic discussions with Genesis.
Implementation Timeframe: 6 Months